3 Strategies to Identify Your Communication Blind Spots(コミュニケーションの死角を特定するための3つの戦略)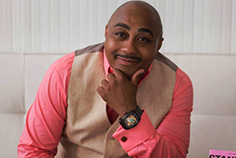 Do you become easily agitated or annoyed under pressure?
Jermaine Davis, PhD suggests ways to address our communication blind spots to help reduce stress and improve team communication in The Periop Life's latest blog post.
プレッシャーの下で簡単に動揺したりイライラしたりしますか?
Jermaine Davis、PhDは、The Periop Lifeの最新のブログ投稿で、ストレスを軽減し、チームのコミュニケーションを改善するために、コミュニケーションの死角に対処する方法を提案しています。
See Dr. Davis Live at AORN Expo 2022(AORN Expo 2022でDr. Davis氏のライブでお会いしましょう)
Join Dr. Davis live during his keynote session during Global Surgical Conference & Expo 2022, March 19-23 in New Orleans. Conference grants now available through the AORN Foundation. Apply today.
3月19から23日にニューオーリンズで開催されるGlobal Surgical Conference&Expo 2022の基調講演で、デイビス博士のライブに参加してください。AORN財団を通じて会議助成金を利用できるようになりました。
今すぐお申し込みください。