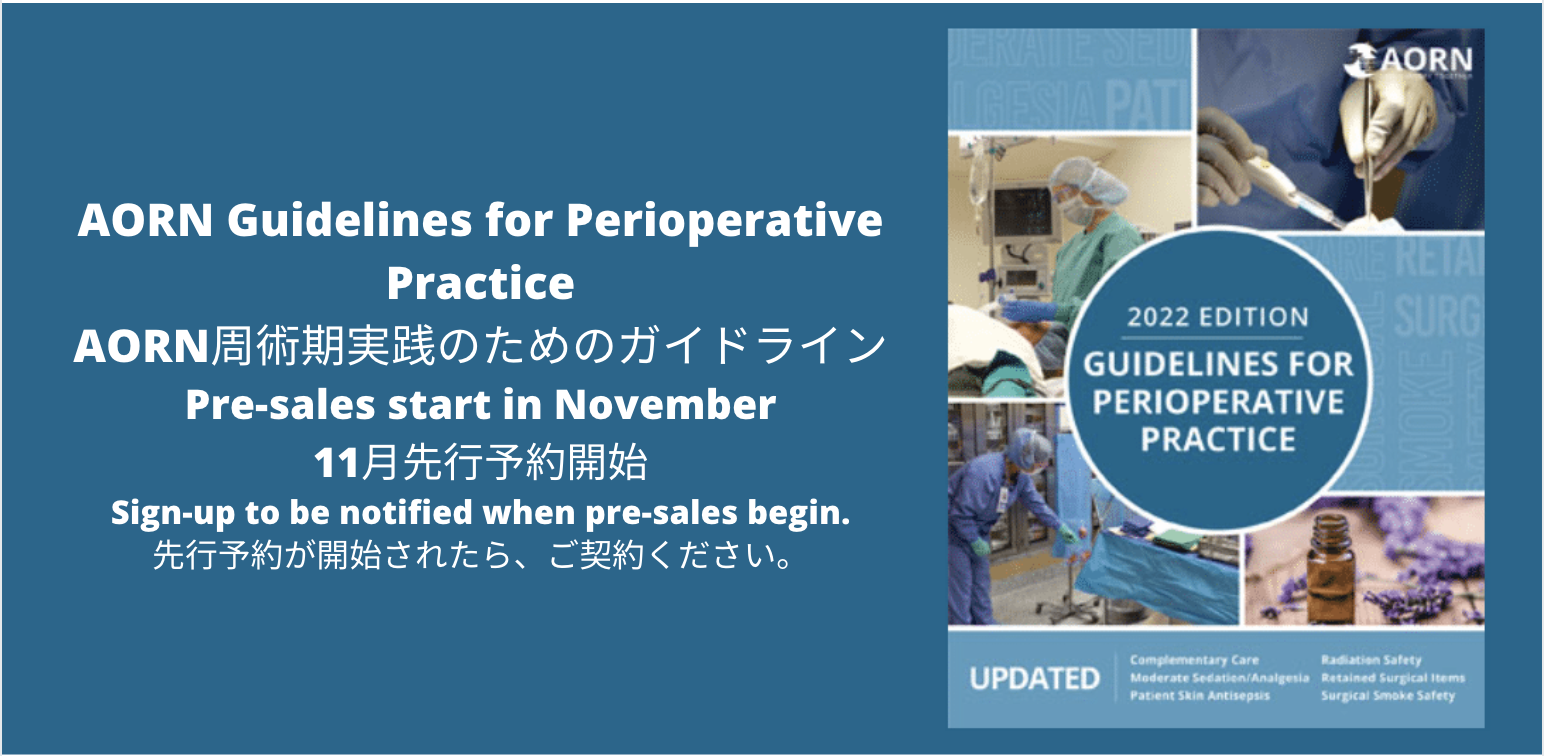 Periop Professional,
Be among the first to get the 2022 AORN Guidelines for Perioperative Practice. Pre-order your copy early and pay the 2021 price!
周術期専門家各位
周術期実践のための2022年のAORNガイドラインをいち早く入手してください。早めにコピーを先行予約して、2021年の価格にてお求めいただくことができます。
The 2022 Edition Includes(AORNのガイドライン2020年版の改訂内容)
» 34 evidence-based perioperative guidelines for daily practice
» 6 important guidelines updates, including
» 日常手術看護実践のための34のエビデンスに基づく周術期ガイドライン
» 以下を含む6つの重要なガイドラインの更新
Complementary Care
Moderate Sedation/Analgesia
Patient Skin Antisepsis
Radiation Safety
Retained Surgical Items
Surgical Smoke Safety
補完ケア
適度な鎮静/鎮痛
患者の皮膚消毒
放射線の安全性
意図せずに残された手術アイテムの予防
サージカル・スモークからの安全性確保
Many accrediting bodies and state health agencies use the Guidelines for Perioperative Practice during their surveys. Implementing these guidelines is critical to patient and workplace safety, managing risk, and survey readiness.
Coming soon! 2022 Guidelines for Perioperative Practice available in eBook format.
Sign up to hear when pre-order is available.
多くの認定機関や州の保健機関は、調査中に周術期診療のガイドラインを使用しています。これらのガイドラインを実装することは、患者と職場の安全、リスクの管理、および調査の準備にとって重要です。
近日公開!eBook形式で利用可能な周術期診療のための2022年のガイドラインを提供する予定です。
先行予約が利用可能になった時にご契約ください。
Recommended for You(ご推奨ワークショップ)
Hear clinical insights and tips for implementation at AORN Guidelines Workshops – interactive, no-cost, virtual events.
AORNガイドラインワークショップ – 双方向の無料のバーチャルイベントで、AORNガイドラインの実装のための臨床的な洞察とヒントを確認してください。