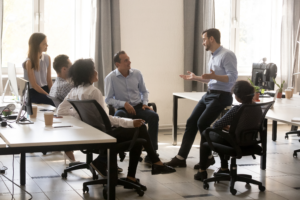 For you as a bilingual or multilingual employee, the opportunity to advance your career into a leadership role is within your grasp. In this globalized economy, companies serving multilingual and multicultural communities – domestically or internationally – recognize the immense value of individuals who possess language proficiency beyond their native tongue.
バイリンガルやマルチリンガルの社員にとって、リーダーとしてキャリアアップするチャンスは手の届くところにあります。このグローバル化した経済において、国内外を問わず、多言語・多文化コミュニティにサービスを提供する企業は、母国語以外の言語運用能力を持つ人材の大きな価値を認識しています。
"Workplaces are more global, and employees who are proficient in multiple languages and at ease in multiple cultures have more opportunities. These opportunities will continue to expand, as we are living in increasingly interconnected societies and workplaces, "(Lazar).
「ワークスペースはよりグローバルになり、多言語運用能力を持ち、多文化に対応できる社員は、より多くのチャンスを得ることができる。相互の結びつきが強まる社会と職場に生きる私たちにとって、このような機会は今後も拡大し続けるでしょう。」
Mehdi Lazar、Language Magazine誌
The Power of Communication(コミュニケーションの力)
What unique insights can you bring to the table as a bilingual or multilingual employee to become a leader within your organization? Leadership positions demand effective communication and a more nuanced understanding of diverse cultures with each passing day. A bilingual employee possesses the ability to bridge language gaps, foster collaboration among team members to create a positive work environment and navigate global markets with efficiency. Remember that developing strong relationships with partners or clients outside of the U.S. becomes possible by engaging with them in their language and building trust among non-English speaking prospects. This is a huge advantage for bilingual professionals, making them an asset to any business.
バイリンガルやマルチリンガルの社員として、組織内のリーダーになるためにどのような独自の洞察力を発揮できるでしょうか?リーダーシップを発揮するポジションでは、日を追うごとに効果的なコミュニケーションと、多様な文化に対するより微妙な理解が求められます。バイリンガル社員は、言語のギャップを埋め、チームメンバー間のコラボレーションを促進し、ポジティブな職場環境を作り、グローバル市場を効率的にナビゲートする能力を備えています。米国外のパートナーや顧客と強い関係を築くには、その国の言葉で関わり、英語を話さない見込み客との間に信頼を築くことが重要です。これは、バイリンガルのプロフェッショナルにとって大きなアドバンテージであり、どのようなビジネスにとっても財産となります。
The Importance of Multilingual Resources(多言語人材の重要性)
Moreover, bilingual employees can help companies adapt marketing strategies to specific cultural contexts on an international level. They can also provide critical assistance in translating documents and delivering interpretation services within the company, facilitating business transactions, and contributing to the implementation of problem-solving solutions.
さらに、バイリンガルの社員は、企業が国際的なレベルで特定の文化的背景にマーケティング戦略を適応させるのに役立ちます。また、社内の文書の翻訳や通訳サービス、商取引の円滑化、問題解決策の実施に貢献するなど、重要な支援を提供することができます。
Cultural and Linguistic Understanding(文化的・言語的理解)
Additionally, bilingual professionals are usually better equipped to adapt to diverse scenarios because of their broader understanding of the world. Their knowledge of multiple languages and first-hand exposure to a wider range of perspectives is essential for successful leadership, especially in rapidly changing business environments. The benefits a bilingual employee can bring to a company extend beyond breaking down linguistic barriers and supporting language training programs. Their participation in leadership positions can help ensure that all diverse team members feel represented, respected, and valued.
さらに、バイリンガルのプロフェッショナルは、世界をより広く理解しているため、通常、多様なシナリオに適応するのに適しています。複数の言語に精通し、幅広い視点に直接触れることは、特に変化の激しいビジネス環境でリーダーシップを発揮するために不可欠です。バイリンガル社員が企業にもたらすメリットは、言語の壁を取り払ったり、語学研修プログラムをサポートしたりするだけではありません。バイリンガル社員がリーダーシップポジションに参画することで、多様なチームメンバー全員が代表され、尊重され、大切にされていると感じることができるのです。
Growing Need for Bilingual and Multilingual Leaders(バイリンガル、マルチリンガルリーダーへのニーズの高まり)
Numerous industries seek candidates who speak more than one language. There are good jobs opportunities in the job market where you can use your language skills to make a positive impact on customers or clients. Some positions include Teacher, Flight Attendant, Immigration Paralegal, Hospitality Manager, Human Resources Generalist, Registered Nurse, and Marketing Manager as suggested by a recent Indeed.com Career Guide. In these roles, bilingual professionals can assume leadership roles, fostering connections and promoting collaboration and understanding among individuals.
A survey conducted for ACTFL revealed that larger organizations often require languages other than English for their business endeavors in international markets, while smaller organizations are more likely to use foreign language skills within the domestic market. Regardless of the size of the organization you are working in, it's to your advantage to make the most of your language skills by actively communicating your abilities to management and seeking out opportunities for growth.
多くの業界で、複数の言語を話す人材が求められています。語学力を活かして顧客や取引先に良い影響を与えることができる、良い求人があります。最近のIndeed.comキャリアガイドによると、教師、フライトアテンダント、移民パラリーガル、ホスピタリティマネージャー、人事ジェネラリスト、正看護師、マーケティングマネージャーなどの職種があります。これらの職種では、バイリンガルのプロフェッショナルがリーダーシップを発揮し、人脈を育み、個人間の協力と理解を促進することができます。
ACTFLが実施した調査によると、大企業では国際市場でのビジネス活動で英語以外の言語が必要とされることが多いのに対し、中小企業では国内市場で外国語のスキルを活用する傾向が強いことが明らかになりました。所属する組織の規模に関係なく、自分の能力を経営陣に積極的に伝え、成長の機会を模索することで、自分の語学力を最大限に活用することが有利に働きます。
Taking the Next Step(次のステップへ)
By harnessing your linguistic competencies and leadership potential, you can propel your career to new heights. Contact Language Testing International (LTI) to accurately measure your bilingual or multilingual skills and obtain a valid certification of your linguistic proficiency. You can rely on LTI to help demonstrate your ability to lead in another language. LTI is the exclusive licensee of ACTFL, a leading expert in language proficiency assessments. With over 30 years of experience, LTI provides remotely proctored ACTFL language proficiency assessments for reading, writing, listening, and speaking in 120+ languages.
言語能力とリーダーシップの可能性を活用することで、あなたのキャリアを新たな高みへと押し上げることができます。Language Testing International(LTI)にご連絡いただければ、バイリンガルまたはマルチリンガルのスキルを正確に測定し、言語運用能力の有効な証明書を発行いたします。LTIは、他言語での指導力を証明するお手伝いをいたします。LTIは、言語運用能力評価の第一人者であるACTFLの独占ライセンシーです。30年以上の経験を持つLTIは、120以上の言語のリーディング、ライティング、リスニング、スピーキングのACTFL言語運用能力試験を遠隔で実施しています。