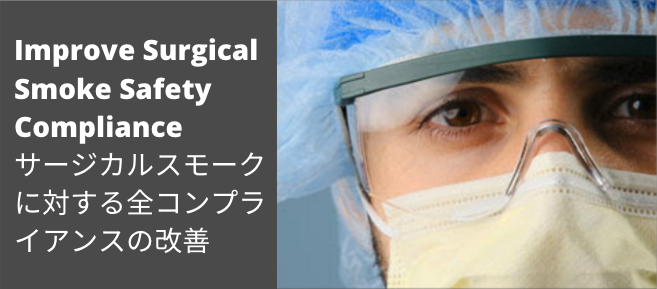 Periop Colleague,
Could communication be the root of your facility's surgical smoke safety woes?
Improving team communication may be the answer to win support for smoke safety practices and boost compliance in the OR.
手術看護師の皆さん
コミュニケーションはあなたの施設のサージカルスモークに対する安全面での問題の根源である可能性がありますか?
チームのコミュニケーションを改善することは、サージカルスモークに対する安全慣行のサポートを得、手術室でのコンプライアンスを高めていくための答えかもしれません。
Learn More When You Attend the Next Hot Topic Seminar(より詳細を知りたい場合は、是非こちらのセミナーにご参加ください)
"Team Communication Approach to Surgical Smoke Safety"
July 20, 1pm ET
「サージカル・スモークの安全性に対するチーム・コミュニケーション・アプローチ」
7月20日午後1時(米国東部時間)
Join live with the author of the latest AORN Guideline on Surgical Smoke Safety and an industry expert to find out:
• New ways to use interdisciplinary communication to overcome barriers to smoke evacuation.
• How periop teams in 5 states have won legislation to help eliminate surgical plume.
• What the latest literature review uncovered about respiratory protection and surgical smoke safety processes.
• What's changed with the surgical smoke evacuation decision tool for selecting the right smoke evacuation method based on the procedure.
サージカルスモークの安全性に関する最新のAORNガイドラインの作成者および業界の専門家とのライブセミナーでは、以下のテーマについて確認することができます。
• 学際的なコミュニケーションを使用して、排煙のためのバリアを克服する新しい方法。
• 5つの州の周術期チームが外科的プルームの排除を支援する法案をどのように獲得したか。
• 呼吸保護とサージカルスモーク安全プロセスについて最新の文献レビューが明らかにしたこと。
• プロセスに基づいて適切な排煙方法を選択するためのサージカルスモーク排煙決定ツールの変更点。
The Guideline for Surgical Smoke Safety is now open for public comment(サージカルスモークに対する安全性に関するガイドラインは、パブリックコメントのために公開されています)